The Team are led by the renowned and immensely experienced Dai Davies FRCS. All have been specially trained and offer a considerable amount of experience.
We have just published our experience with FtM Chest Wall Reconstruction in the country's national scientific journal, the Journal of Plastic Reconstructive and Aesthetic Surgery. At present it is the world's largest series and demonstrates that both high quality results and low complications are achievable, in what is challenging surgery, with sufficient experience and expertise.
In collaboration with the medical transgender experts; Dr Stuart Lorimer (Gender Care), Dr Vickie Pasterski (Harley Street Gender Clinic) and Dr Richard Curtis (The London Gender Clinic), we have formed a multi-disciplinary team (MDT) to discuss complex cases, continue regular audit and keep up-to-date with the latest developments in the transgender field.
Being based in London, we believe we offer a unique environment without the need to travel abroad. This makes your follow up and any small enhancements much easier and less costly.
Our Surgeons are covered by the respected Surgery Shield Insurance, only available to approved surgeons who have demonstrated low complication and revision rates.
Transmasc Top Surgery (DD+)

As a transmasculine person with a reasonably large chest (32GG was the size of the last bra I bought), I could not find many photos of what to expect results-wise from top surgery (double mastectomy with masculinising reconstruction). I also needed to fit my surgery and recovery in around my university course. I needn't have worried on either count. The team at CSP scheduled me around my exams and were an email away if I needed to query something about my recovery. Mr Berry is a true craftsman, and I would highly recommend him as a top surgeon, particularly if you are a DD+ cup size.
My results are amazing

I had FTM top surgery with Mr Berry and I literally have nothing bad to say about my experience. Everyone I met was so nice and took great care of me. My results are amazing and I just couldn't be happier. I was incredibly nervous for my surgery, but everyone did their best to make me feel as comfortable as possible. I had to stay overnight and even then, whenever I needed anything, I'd get it immediately. My surgery was about two months ago and I have received great aftercare. Whenever I have a question, they reply incredibly fast, sometimes even within the hour. I'm still so happy with my decision to go abroad to CSP and I would recommend going there to anyone considering getting surgery.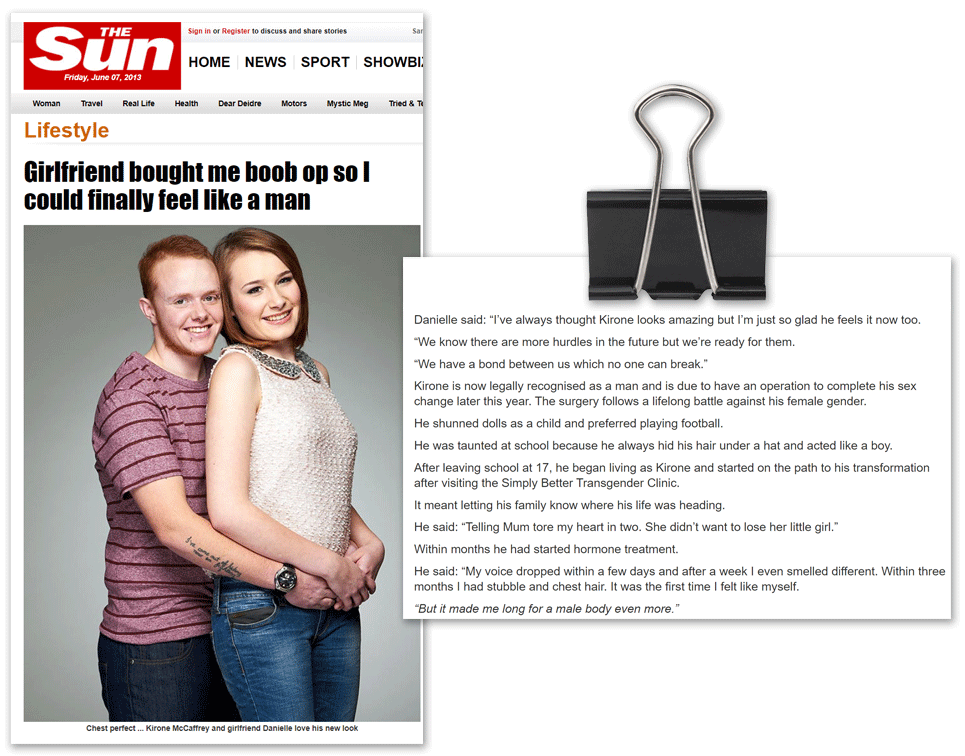 Simply Better Transgender featured in the Sun
In association with Cosmetic Surgery Partners our surgeons have won a number of prestigious and highly sought after awards, not to mentioned medical papers published and features on various TV shows and media.
2009
Voted top 15 cosmetic surgeons by Tatler
2011
Cosmetic Surgery Partners Exchange awards
2014
Voted Best For FaceLifts by Tatler
2015
Awarded Best Aesthetic Clinic in South England & Wales
2019
Top Plastic Surgery Clinic of 2019 in London, England
2019
Best Cosmetic Surgery Clinic 2019 London, England